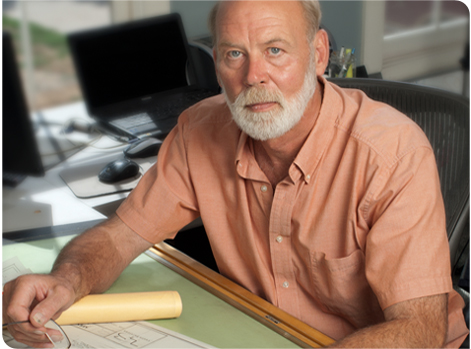 As principle owner of Imagine Absolute, the needs and desires of the client are paramount. In my thirty-five years of experience, no matter the job I have found that before there is a plan there is a sketch, and before there is a sketch there is a rationale based on common sense and reasonable thought.
I have a long history of involvement in various projects throughout Siouxland. The scope of projects in the area include, but are not limited to, retail spaces, churches, government and commercial office spaces, restaurants, manufacturing facilities, and multi and single family residences.
Beyond the immediate region, I have worked extensively throughout the United States. I owned and operated a general contracting company in the greater New York City area for 15 years and worked on everything from historic brownstone renovations to new multi-million dollar properties in Westchester. These projects and others in Minnesota, Denver, San Antonio and Jamaica, W.I. – have provided me with a wealth of knowledge and experience that is both extensive and unique. This enables me to work with my clients to help them discern their true needs. I thrive on the give-and-take discussions with my clients in order to define objectives and execute them with precision.
Additionally, I have served as a construction analyst for the federal government, completing thousands of building inspections nationwide, including damages caused by hurricane Katrina.
No matter the size or type of project you envision, Imagine Absolute will help you reach it. I look forward to working with you.
Larry Leslie DBA Imagine Absolute does not present services offered as that of a licensed architect or engineer. Imagine Absolute operates under the Section 544A.18 of the code of Iowa and is a registered contractor in the State of Iowa #C114144.
More about Imagine Absolute
Imagine Absolute desires to achieve goals and fulfills dreams.  We provide clients with unique and creative perspectives toward projects, whether new construction, comprehensive renovations or remodels. Imagine Absolute designs projects that are aesthetically  and functionally beautiful.
This philosophy applies to all types of structures no matter what your dream may be.
Owners Representative
Understanding, analyzing and formulating objectives for desired results.
Construction Management/Consulting
Manage from conception through completion in a timely and economic way.
Building Design
Conceive and create drawings for construction.
Property Inspections
Apply knowledge and experience in the various disciplines of the construction industry to provide a complete and thorough inspection.

Fees vary with the scope of work. Contact me for more information.