Noah and Jenny · Boston, MA
We are new homeowners of an historic property in Boston. We wanted to put in central A/C to make the summers more manageable. However, the proposals we had gotten were not well-thought-out. We got in touch with Larry because we trusted him: he had led the renovation of Noah's parents' home thirty years ago, and did a tremendous job of preserving its historic character. For us, Larry was able to spec out a plan for short-ducted A/C units that would be minimally intrusive to the existing architecture. He also spoke with vendors on our behalf to vet them and ensure that they could deliver on the plan within our time window and budget. The result was spectacular. Of course, Larry was friendly and courteous as always throughout our interactions. He also visited our space and gave us some ideas for future improvements. We look forward to staying in touch!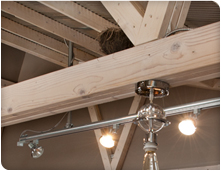 Greg Oolman · Dwellings · Iowa
"We have been completely satisfied with the quality and professionalism of Larry's work on our flooring and interior design store, Dwellings. Larry designed the lighting and ceiling of our new building. His design was both functional and aesthetic; in fact, customers who come in for the first time often comment on how beautiful and unusual the design is. As new business owners, we have been grateful that Larry's good planning helped us to avoid pitfalls that would have cost more money than originally planned."
(view project)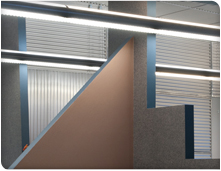 Bryan Kooi · CIVCO Medical Solutions  · Iowa
"Larry has a unique ability to determine the client's needs and provide innovative and exceptionally creative design plans.  He did A+ work for two of our building additions.  I highly recommend his work"
(view project)
Julie · Iowa
"Larry redesigned my home…moving walls to make a huge, curved kitchen and bar area that I love. He also, took two bedrooms and a bath and made over the area totally into a beautiful Master Suite! He was so creative in his use of lines and angles. Everyone that comes in knows it is a custom design and loves it. Not only is it beautiful, but so functional!!! I would totally recommend Larry for any building design. He was fabulous to work with!"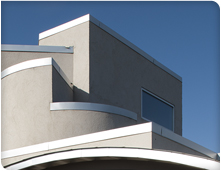 Allyson · Iowa
"Larry's designs are very innovative as God has blessed him with a creative brain. He exhibited excellent thought processes and is in-tune with his client's wants and needs. He communicated well through the whole process leaving no detail unturned. We were confident that Larry would do the best for us. And he did. The house fits us perfectly! We love the design. We've lived in the house for 10 years and still marvel at Larry's designing abilities. Everything is so sculptural inside and out. We receive many nice comments from people who appreciate good design."
(view project)
Jodie · Iowa
"I am a real estate agent and I have used Imagine Absolute for a home inspection. I was very pleased with Larry Leslie's assessment of the home that was in question. He was very thorough, took his time to explain any details that the prospective buyer had, and had ideas of how to correct the problems that he found."
Jodie · Volunteer-Hands Around the Plain · Iowa
"Larry Leslie was of great assistance on the start of a retail space for an area non-profit store. He helped with the overall layout of the space, and had great ideas about how to improve the space that included cutting in windows and how to layout the display shelving. He has always been great with space planning, so he is who I call when I have a new project!"
(view project)
Sharon · San Antonio, Texas
"Simply put, Larry delivered a product that exceeded expectations. Larry came to Texas to help us define functionality and artistry of a casita and outdoor living space that would complement our existing home. Larry asked pointed questions, listened and provided fresh ideas which he was able to translate into a working plan. The final product was beyond anything we had ever dreamed."
Bill · Vice President – Northwestern Bank · Iowa
"Larry has consulted on several projects in recent years. He excels at researching his client's needs and then customizing his designs to meet those needs. He's helped us maintain an up to date look while still respecting the traditional aspects of our facility."
(view project)
Kathy · Iowa
In 2005 my husband and I decided to build a new garage to replace the original flat-roofed garage. At the same time we also felt that the timing was right to renovate our kitchen. We chose to work with Imagine Absolute. We were familiar with Larry's work as a designer and appreciated his skills and creativity.
During the summer months Larry met with us on several occasions to discuss our needs and desires for the renovation and addition. We talked at length about our family life, habits and activities in order to create the best design to fit our lives. I was impressed with his belief in the importance of understanding our family's needs in order to create the best design both aesthetically and functionally.
The plans that Larry showed us included not only a beautiful garage, wider driveway and new kitchen design, but included moving our laundry facilities from the basement to the main floor (this was an unexpected and delightful addition to the plan!) He also created an entryway that was attractive and welcoming both inside and out, and large enough to accommodate our cold weather clothing, kid's backpacks and other school paraphernalia as well as plenty of extra space for guest's coats, hats and other items. To top it off, he designed a modest covered patio opening to a larger, open air patio. We love it for anything from a morning cup of coffee to entertaining friends around an evening fire.
Our original kitchen included the cabinet's original to the house. The kitchen and dining rooms were separate and only accommodated two smaller tables each, requiring us to split parties into two groups (often kids and adults). The new design opened up the kitchen to the dining area so that we can accommodate a large single table and easily interact with guests while preparing food. It includes a comfortable bar which is a great place to share a cup of coffee with a friend, study, work on the computer or simply use as extra counter space.
Working with Imagine Absolute was a great experience. We are thrilled with our renovations and happy that we decided to work with Imagine Absolute. We will certainly work with Larry again when we need other renovations!
(view project)
Hal Marks · Florida
As a senior inspector for the US SMALL BUSINESS ADMINISTRATION. I worked with Larry in New York and New Jersey on disaster sites both residential and commercial for analyzing the cost of repair or replacement of storm damaged property. I was very impressed by Larry in his knowledge of building construction and modern design techniques to solve building solutions. He was very organized and detailed in his evaluation.
Jamie · Iowa
We love our new home. It works for us and we are very happy with the design. We never look at it and wish it was done differently. Larry was very good at considering our needs and our budget in the design of our project.
(view project)
Sandra Dorbin · Michigan
Imagine Absolute was there for me when I had a problems with my roof. Larry provided valuable information which helped me immensely in resolving my problem. Larry guided me with my complaint to the State of Michigan concerning my roof and the roofing contractor. It was a long ongoing process but in the end it was settled for $10,060.00 the price of my new replaced roof. I am very grateful for Imagine Absolute. If I ever need someone to help me again with anything with my home I will count on Imagine Absolute.
Garrett Garnos · South Dakota
I have known Larry Leslie since I was privileged enough to watch him develop an Old Creamery in the Mid-1990's into some of the most unique, original, and interesting apartments I have ever seen. Among other unique features in the Old Creamery Apartments, I will never forget the study he designed, extending under the sidewalk, separating pedestrian and inhabitant with a thick layer of smoked glass. More recently, Larry inspected a historically notable building in downtown Sioux City, Iowa that I was interested in purchasing. Drawing on his formidable knowledge and experience, Larry was able to let me know the potential benefits and pitfalls of taking on the investment in a way I could understand. If you are looking for design ingenuity combined with practical knowledge and real world skill, Larry Leslie is your man, and Imagine Absolute is your company!
Loren Visser · D&L Plumbing · Iowa
For over thirty years of working with Larry as a mechanical contractor on his projects he has never disappointed me.  His ability to blend his creativity with the functionality of plumbing, heating and air-conditioning is outstanding.